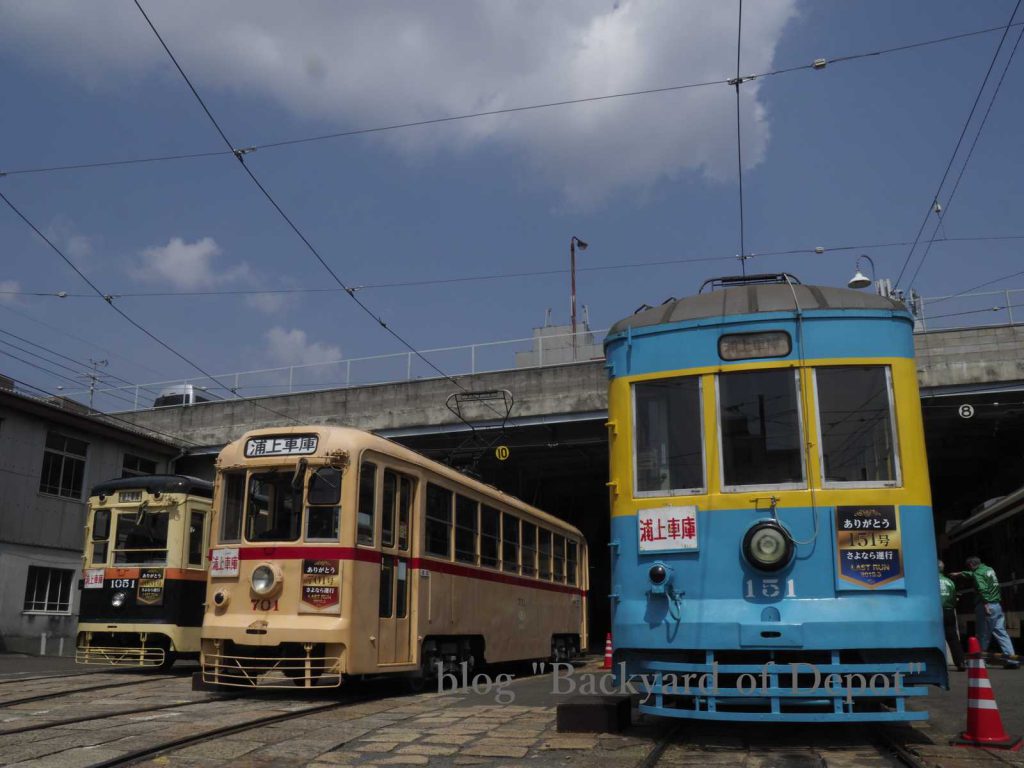 2019年3月30日、長崎電気軌道で長年動態保存されてきた、151号(元王子電気軌道→箱根登山鉄道小田原市内線)・701号(元都電)・1051号(元仙台市電)のさよなら運行に参加してきました。またあわせて、その他の車両の撮影や長崎バスの狭隘路線探訪も行ってきましたので、その時の模様を書きたいと思います。
In 30 March 2019, Nagasaki Electric Tramway(NET) held fawell photo session and fawell parade of three heritage trams.
One of three heritage trams is No.151. It was made in 1925 for former Ōji Electric Tramway(Now Tokyo Metropolitan Transportation Bureau's Arakawa tramway line) and transferred in 1950 to Hakone Tazan Railway's Odawara tramway line(abandoned in 1956). This car was transferred to Nagasaki in 1957, and the body was shorten to 11m long. 151 was used for regular service until 1980s.
Next one of three trams is No.701, ex-Tokyo Metropolitan Transportation Bureau. The car was made in 1955 and transferred to Nagasaki in 1969. 701 was withdrawn from regular service in 1990s.
Last one of three trams is No.1051 which was made in 1952 for tramway of Sendai City Transportation Bureau. After abolition of Sendai tramway in 1976, 1051 was in regular service in Nagasaki until 1990s.
Since 1985, Three trams are painted each hometown's livery(Odawara, Tokyo, Sendai).
I visited in Nagasaki from 29 March to 31 March. I could enjoy the photo session and parade in 30 March. And also, I enjoyed bus ride in the route with Nagasaki's narrow street.
In this post, I publish pictures of NET's heritage trams and regular trams, and buses of Nagasaki Bus Company on narrow street.
Unfortunately, three heritage trams will be withdrawn and maybe dismantled. Official reason is "difficulty of maintenance".
But true reason seems to be laws about restriction of Asbestos. Manufacturing and transfer of any items including Asbestos is prohibited by law. Using or keeping of items with Asbestos is not prohibited yet. But many Japanese heritage rolling stock was dismantled in 2018-2019. It seems that some restrictions(Legal interpretation or Ministerial ordinance?) about Asbestos have been(or will be) changed in recent years.
●3月29日 Part1:市内電車撮影
29 March Part 1 : Taking a picture of Nagasaki's regular trams
次の記事に続きます(4月13日頃公開予定)。
To be continued…(Next article will be posted in 13 April)